By Lisa R. Rhodes
Reposted from api.army.mil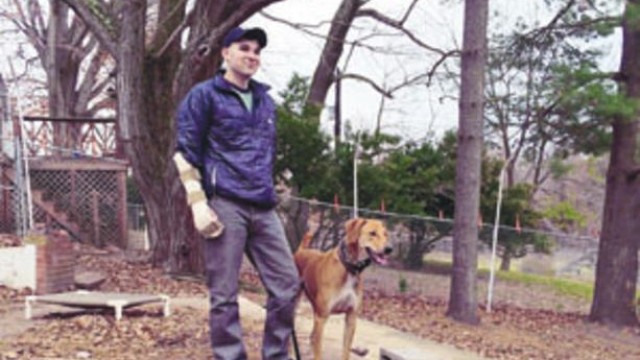 When Capt. John Orosz arrived at Walter Reed National Military Medical Center in Bethesda in September after being injured in Afghanistan, he needed someone to take care of Brownstuff, his 2-year-old dog, during his recovery. Debbie Steffend volunteered to care for the dog on her farm in Mitchellville. She and Orosz made the arrangement through Dogs on Deployment, a national nonprofit that provides an online network for service members to search for volunteers willing to board their pets during a deployment or other military service commitment.
"I'm incredibly pleased," said Orosz, who bonded with Brownstuff when he was born on Orosz's outpost during his first deployment to Afghanistan in 2011. "It would just be too expensive to have him boarded." Dogs on Deployment was started two years ago by Shawn and Alisa Johnson, both military lieutenants, who, after trying to find someone to care for their dog before a deployment, founded the organization to help others. Since then, about 225 dogs owned by service members have been matched with volunteer boarders.
According to the organization's website, the online service is open to active-duty service members and Reservists about to deploy or who must undergo command training, military travel required by their command, a military move or permanent change of station. It is also available to veterans receiving medical treatment for a condition directly related to military service through the Department of Veterans Affairs. Under certain circumstances, the online service is also available to military spouses.
Dogs on Deployment allows military members to register their pets in need and volunteers to register as boarders. Once an account on the website is created, pet owners and volunteers can communicate and make arrangements for boarding. Dogs for Deployment is not responsible for the terms of the boarding arrangements or the outcome.
Steffend, who also cares for two other dogs through the program, signed up to become a boarder about five months ago. "I came across the website while searching the Internet for a program to participate in that combined service members and animals," she said. "I think it's important to give back, especially to those in the military." Orosz covers the cost of Brownstuff's food and other essentials. Orosz said his dog has a habit of chasing after deer and squirrels and has done so several times while on the farm. During one breakout from the farm, one of Brownstuff's rear paws was injured. The veterinarian bill cost more than $500. Dogs on Deployment held a fundraiser to pay the bill.
Allison Mulrooney, wife of Spc. Liam Mulrooney of 55th Signal Company (Combat Camera), said she found out about the service in February when she was first interested in becoming a boarder. By June, she was pregnant and learned that her husband was set to deploy to Afghanistan. Mulrooney, who lives in Normandy Bluff, said she went back to the Dogs on Deployment website to locate a boarder for her dog Caine because she would not be able to care for him during the delivery of her child. She received about 30 emails from people in the area who were interested. "I was surprised," Mulrooney said. "I was expecting only one or two emails."
Mulrooney, who is now the Fort Meade liaison for the organization, said Dogs on Deployment provides an important service for the military. "A lot of military families don't know what to do when we have a deployment, and our pets are a part of the family," she said. "If we weren't able to take care of Caine and I had to give him up to someone else, I would be devastated. It is good to know there is an option so you can keep your pet."
As the Fort Meade liaison, Mulrooney helps to recruit volunteers to promote Dogs on Deployment at local pet expos and other pet care events. Three volunteers for the organization live on post. Orosz said Steffend has agreed to take care of Brownstuff until the spring, when he hopes to return to active duty. "Once I return to full health, I intend to boarder dogs," Orosz said. "It's a way of giving back to the network."